Breast patch for Ministry of Internal Affairs - the MVD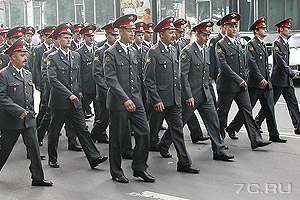 The Russian MVD was recreated as the MVD of the Russian SFSR in 1990, following the restoration of the republican Council of Ministers and Supreme Soviet, and remained when Russia gained independence from the Soviet Union. It currently controls the Militsiya, the State Road Inspection Service (GAI), and the Internal Troops. Since the disbanding of the Tax Police, it also investigates economic crimes.
The long-time additional duties of the Imperial MVD and NKVD, such as the Firefighting Service and Prisons Service, were recently moved to the Ministry of Extraordinary Situations and the Ministry of Justice respectively. The last reorganization abolished Main Directorates inherited from the NKVD in favor of Departments. The current minister of internal affairs in Russia is Rashid Nurgaliyev.
...learn more
Price: $3.95
Item number: #20471
Shipping is only $2.95 on all domestic orders!
That includes US and US territories.
Shipping information for international customers. More info...
The best winter hats in the world - Ushanka.

Time-tested over decades of use by the hardy Russians to withstand their harsh winters.

Made in Russia from the highest quality locally manufactured materials only!

Great and useful gift for Christmas!