Chest Patch for Ministry of Extraordinary(Extreme) Situations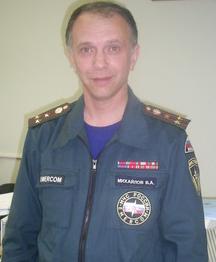 The Ministry of Extraordinary Situations of the Russian Federation (EMERCOM) was established on January 10, 1994 by President Boris Yeltsin. It is also called the Ministry of the Russian Federation for Civil Defense, Emergencies and the Elimination of the Consequences of Natural Disasters. Some consider the real date of birth of the agency as December 27, 1990, when the Russian Rescue Corps was established and assigned the mission of rapid response in the case of emergencies.
According to an EMERCOM publication, the Ministry is an agency of Federal Executive Power with the following tasks:
Developing proposals and initiatives in the sphere of State policy on issues within the Ministry's competence;
Managing the Civil Defense and Search and Rescue Service in the Russian Federation;
Providing for the functioning and further development of the Russian System of Disaster Management (RSDM);
directing activities aimed at eliminating the consequences of large-scale disasters, catastrophes and other emergencies;
conducting special submarine activities;
supervising the use of finance resources allocated to the Government for disaster management and response;
organizing the training of the population, and governing agencies and the RSDM forces for disaster management and response;
Organizing international cooperation in the fields of the Ministry's competency.
Price: $3.95
Item number: #30491
Shipping is only $2.95 on all domestic orders!
That includes US and US territories.
Shipping information for international customers. More info...
The best winter hats in the world - Ushanka.

Time-tested over decades of use by the hardy Russians to withstand their harsh winters.

Made in Russia from the highest quality locally manufactured materials only!

Great and useful gift for Christmas!